welcome to The Critters in Need Website
A silent promise made to my Ginger, Pumpie, Duck and Hannah when they died and brought to reality with the help of 2 wonderful friends.
Critters In Need supports no-kill rescues, shelters, sanctuaries and foundations, regardless of geographical location, working to save the lives of our furry (and not so furry) friends. With your help and participation, we have the opportunity to really make a difference in the quality of critters that are truly in need. Animals offer so much in the way of unconditional love. This is our opportunity to give back and show how much we care.
One hundred percent of the proceeds raised from our efforts will be given to no kill rescues, shelters, sanctuaries and other foundations that are dedicated to the preservation and protection of animals. To that end, we have managed to donate over $140,000 since our inception in 2014!.
If we can save one little one it will be worth it…
You can donate monies directly here via PayPal by using the button below.
Critters in Need Inc is a 501(c) 3 non profit corporation • Tax Id # 47-1309599
Many thanks to Leah Clark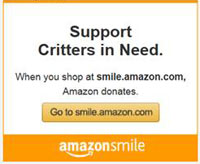 Scroll